First Visit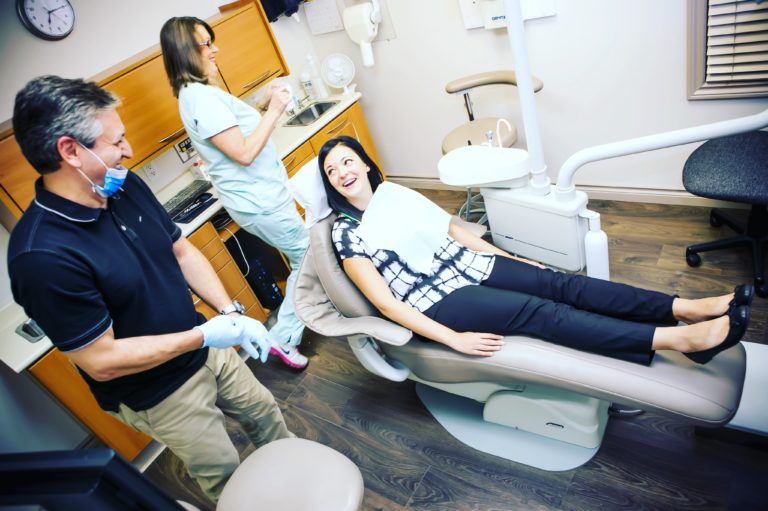 All new patients are introduced to our practice through a comprehensive examination done by Dr. Filo, Dr. Donatelli or Dr. Ross.
This initial visit or New patient exam will be comprised of an oral cancer screening, an examination of your gums to diagnose periodontal disease (also known as gum disease), temporomandibular joint to evaluate any abnormalities, and an analysis of your overall dentition for existing restorations, active decay and occlusal wear.  If you have an emergency, we will diagnose and render treatment during your first visit to our office.
At the end of your New patient exam, your doctor will discuss any pertinent diagnosis  and recommend treatment accordingly. You and your doctor will discuss in detail each treatment recommended.  Any questions you might have will be addressed prior to commencing any treatment.
In cases where treatment is more complicated, a second consultation appointment will be booked for you to review and further discuss and stage treatment.  Generally, consultation appointments are at no charge to our patients.
If you will be utilizing dental benefits, make sure to contact our office prior to your new patient appointment to verify your eligibility for the visit. This will save time and allow us to help you process any claims and verify any co-pay amount due for your visit. Without accurate information, you are responsible for all of the appointment cost.
X-Rays
If your previous dentist has taken x-rays and they are diagnostic, you may request that they forward them to our office. If there is not enough time, please have them emailed to info@queenstreetdental.ca prior to your new patient visit. If additional films are necessary, they can be taken at our facility.
If applicable, please send us in advance the following for your new patient appointment:
Any recent checkup or full mouth X-rays (if applicable).
A list of your current medical prescriptions.
IMPORTANT: A parent or guardian must accompany all patients under 14 at visits.
Please alert the office if you have a medical condition that may be of concern prior to your dental visit (i.e. diabetes, high blood pressure, artificial heart valves and joints, rheumatic fever, etc.) or if you are on any medication (i.e. heart medications, aspirin, anticoagulant therapy, etc.)